Pembrokeshire council to sell old Haverfordwest prison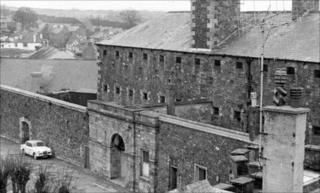 A 19th Century former prison currently used as Pembrokeshire's records office and archive store is to be sold.
The building in Haverfordwest dates back to 1820 and has been declared surplus to requirements after the service moves to a new base.
The county council said selling the site would raise money and lead to efficiency savings.
It put a house where Lord Nelson received the Freedom of Haverfordwest on the market last month.
The archive service will move from the former prison within the grounds of Haverfordwest Castle when new council offices are completed in the Prendergast area of the town.
The council's cabinet was told the authority had no need for the building in the future and agreed it should be sold although a price has not been set.
County archivist Claire Orr said it had undergone many alterations since it was built in 1820 as an expansion of the old gaol located mainly within the castle's inner bailey.
"In 1820 the prison's maximum capacity was 86 prisoners and debtors, and they had few comforts during their imprisonment," she said.
They were locked in their cells from sunset until either 6am or 7.30am, depending on the time of year.
Ms Orr said: "The prison was overseen by a governor, whose house is located in the walls of the inner bailey [now the Haverfordwest Town Museum] and a matron.
"The former dealt with all male prisoners and the latter with the female prisoners. The prisoners' diet was basic and only occasionally included meat.
"By 1878 the gaol held few prisoners and was closed at this point with the remaining inmates being transferred to Carmarthen.
"Since this time it has been used as a police headquarters and as the base for Pembrokeshire council's museum and archive services.
"The museum service moved out at the end of 1999. The building is still home to the council's archive service."
It will be the second historic building in Haverfordwest to be put on the market by the council this year.
It is also seeking a buyer for Foley House - where Lord Nelson received the freedom of Haverfordwest in 1802.