Irish signals may cause Pembrokeshire TV channels loss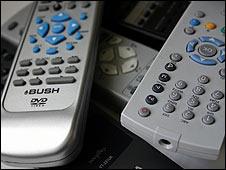 Television viewers in a Pembrokeshire community may be missing channels due to signal interference from Ireland.
Some Freeview viewers in Dinas Cross have been unable to watch ITV3 and ITV4, along with Channel Four's Film 4 and others, since before Christmas.
They have complained they are getting a second class service.
The television channels believe an Irish broadcaster may be using some of the same frequencies which they say would account for the problem.
County councillor for the area, Bob Kilmister, said when the digital switchover first occurred people in the village could receive the full spectrum of channels.
But he said he started to receive complaints just before Christmas.
"There are people here who have lost a lot of channels and are very unhappy with the choice of what they can watch," he added.
He enlisted the help of Preseli Pembrokeshire AM Paul Davies who has been told by Channel Four and ITV that there could be a number of issues involved.
In a letter to the AM, David Dorans, head of broadcast technology at Channel Four, said following a number of inquiries they found the Mount Leinster transmitter in Ireland had started using some of the same frequencies as the Preseli transmitter in Pembrokeshire.
"There is a good probability that the signal from Mount Leinster could carry over the Irish Sea to Wales and the location is such that it could be receivable by an aerial pointing at Preseli," he added.
"If this were the case it would block reception... from Preseli as the receiver would not get a decodeable signal due to the co-channel interference."
But in a letter to Mr Davies from ITV, a spokesperson for the channel offered another potential explanation.
They said the loss of ITV3 and ITV4 in some areas was because a decision had been taken to transfer the channels from a public service transmitter to a commercial transmitter "with a slightly lower coverage".
The reason for this was to make Channel Five and S4C available to more households than before.
Mr Davies said: "Whilst I am pleased that progress is being made and that the cause of the problem seems to have been identified, residents in the Dinas Cross area still experience a disproportionate broadcasting service in comparison to everyone else.
"I hope very much that this matter is solved as soon as possible for all concerned."
Mr Kilmister added: "It's the first time we've had any form of logical explanation."
But he said he was not hopeful the situation would be resolved any time soon.
Related Internet Links
The BBC is not responsible for the content of external sites.