Three men remanded over theft from Guernsey jewellers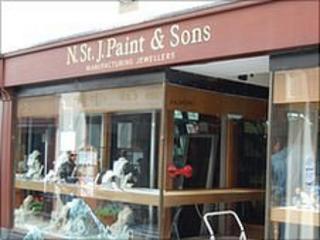 Three men have been remanded in custody after being charged with the robbery of a Guernsey jewellers.
They were charged with stealing goods valued at £107,660 from N St J Paint and Sons in the early hours of Tuesday.
Kendall Chivers, 40, from Southsea, and two local men of no fixed abode appeared before the magistrates' court on Thursday.
Mr Chivers, Thomas Philip Marr, 27, and Jason John Duncombe, 26, were remanded in custody until 2 August.
They were also charged with receiving the items, which included jewellery and a one kilo gold bar.
Mr Chivers was also charged with possession of heroin.
Following the arrest of the men on Tuesday, Guernsey Police said a large number of items had been recovered and the force was working with staff from the shop to identify them.