Devil's Beef Tub plans secure almost £1m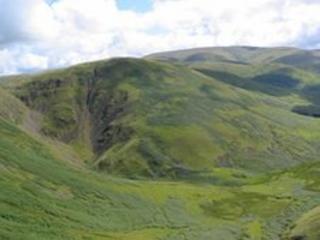 A major conservation project at the Devil's Beef Tub near Moffat has received a funding boost of almost £1m.
The money from the Scottish Rural Development Programme will be used to create a new native woodland at Corehead Farm.
The Borders Forest Trust (BFT) project aims to provide a haven for plants, birds and animals.
A trust spokesman said the funding would help create a "new and diverse landscape" in the Southern Uplands.
The total award is £927,620 which will be used to carry out planting in three valleys across the area.
BFT director Willie McGhee said: "This award will enable one of the south of Scotland's most significant conservation projects to get under way and we are very grateful to the Scottish government.
"BFT plans to restore the woodlands that once cloaked the hills and valleys at Corehead, creating a new and diverse landscape across the Southern Uplands."
Native breeds
The trust took ownership of 1,580 acres of land at Corehead in July 2009 following a successful public fundraising appeal.
The native woodland planting is the first stage in bringing the site into conservation management.
In the coming years, the trust also hopes to use traditional agricultural practices and ecological restoration techniques to create wetlands, hay meadows and heather moorland habitats on the land of Corehead.
Sheep will continue to graze the hills, but in reduced numbers in order to let semi-natural habitats re-establish.
It is hoped to introduce native breeds of cattle for summer grazing, to help promote the growth of wildflowers and other plants.
Site manager Ed Glenwright said: "The native woodland planting forms the cornerstone of the Corehead project.
"We'll be aiming to demonstrate that farming and conservation can work well together, while creating opportunities for the local community to interact with the landscape."