Torc finder detects medieval seal in Strilingshire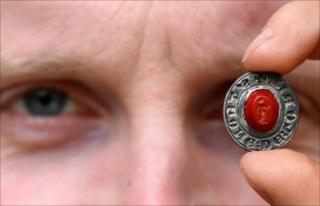 A metal-detecting enthusiast who unearthed one of Britain's most significant Iron Age hoards is celebrating another valuable find.
David Booth discovered the 800-year-old medieval seal in a Stirlingshire field.
The well-preserved silver antique, decorated with a small stone carving, or "intaglio", from Roman times, could be worth several thousand pounds.
Mr Booth made the find less than a year after discovering four 2000-year-old gold neckbands or "torcs".
Described as one of the most important hoards of Iron Age Britain, the safari park keeper is still waiting to find out what reward he will get for handing over the treasure.
He said Scotland's Treasure Trove unit, which is responsible for archaeological finds, was delighted to hear about his latest success.
Mr Booth, chief game warden at Blair Drummond Safari Park near Stirling, said: "They said it looks like a lovely find, that it's in lovely condition and they are looking forward to getting it in to have a look at it.
"I was really excited when I found it - I thought it looked a bit special.
"I was probably more excited than when I found the torcs, to be honest."
'Good signal'
The inch-long, oval-shaped medieval seal matrix features a circular inscription - probably the owner's name - around a carving of a Roman figure in red jasper.
The seal has a hook at the back and Mr Booth said it would probably have hung from the neck when not being used to stamp letters.
The stone is likely to have been recycled from a Roman ring and may date back to the late 1st Century.
The metal-detecting fan also found medieval coins and Tudor buckles at the Stirlingshire site.
He said: "I'd done a bit of research, examining maps and things, and got permission to go to a particular field.
"The seventh signal I got was a good one but lead also gives off a very good signal.
"I got out my spade and found the seal about six inches down."
Mr Booth found the torcs last September on his first outing with a metal detector.
Under Scots law, the Crown can claim any archaeological objects found in Scotland.
Finders have no ownership rights and must report any objects to the Treasure Trove Unit.
However, Mr Booth may receive a reward equal to the value of the jewellery and the seal.
He said: "I just love doing it, I didn't take it up for monetary gain.
"It's a good way to get out and about and meet new people."