Dwr Cymru warns 50,000 customers to use water 'wisely'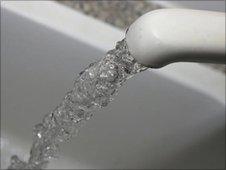 A water company has written to about 50,000 customers in north and mid Wales, asking them to conserve supplies following recent dry weather.
Dwr Cymru Welsh Water said the letters were sent to households on the Llyn Peninsula, Gwynedd, and mid and south Ceredigion.
It said water use in those areas had been a third higher than normal after the "driest spring and early summer for more than 80 years".
It hopes to avoid hosepipe bans.
Welsh Water managing director Nigel Annett said: "We've had the driest spring and early summer for more than 80 years and we want to keep customers informed of the water supply situation.
"Although we consider that reservoir levels should be adequate for the rest of the summer, we want to ensure that they last for months to come and we are asking our customers for help.
"The areas in which we are writing to people are those where water resources may be most stretched if the hot weather continues and there isn't enough rainfall to top up our reservoirs.
"People tend to use much more water during a heatwave and in recent times we have had to increase the water going into our network by as much as 50%."
Last week, Dwr Cymru Welsh Water said its reservoir levels remained satisfactory, at about 72% capacity.
However, it said changes in lifestyles in recent years had put extra pressure on water supplies.
The main culprits, it said are garden sprinklers and large children's paddling pools.
It offered water-saving tips, including avoiding watering gardens and washing during 1730-2000 BST - when demand for water is highest.
Other advice included using water butts around drainpipes to collect water for gardens, and warning customers that a dripping tap could waste a bath of water every week.
Related Internet Links
The BBC is not responsible for the content of external sites.