Fans miss Durban semi-final as VIP jets clog airport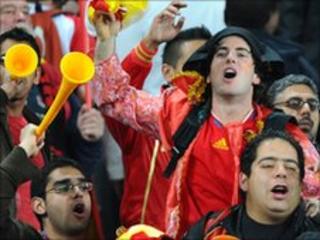 South Africa has apologised to hundreds of football fans who missed Wednesday's World Cup semi-final because VIP jets caused a logjam at Durban's airport.
The operators of the new King Shaka International Airport said private jets had blocked the landing space.
They said the jets were ordered to make way for other planes, but refused.
Witnesses on one flight said agitated fans anxious to get to the Spain v Germany match surged towards the cockpit to demand an explanation.
Another report spoke of fans breaking down and crying upon realising they would miss it.
The airport in Durban opened in May in order to cope with higher passenger volumes for the World Cup.
"As government, we regret the inconvenience caused to all those fans who missed the semi-final," South African Transport Minister Sibusiso Ndebele said in a statement.
"It's now all systems go for the closing ceremony and the final match... We have been working all out to ensure that we provide an efficient transportation system for the final," he said.
Spain take on the Netherlands in Johannesburg on Sunday in the World Cup final.