Call for Richmond Park to be controlled locally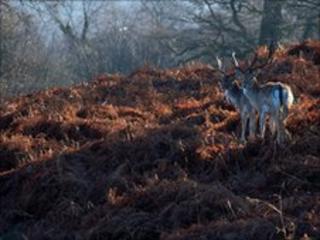 The government is being urged to hand over control of Richmond Park to local councils.
Richmond Council wants Tourism and Heritage Minister John Penrose to transfer management of the 2,500 acre park to the authority.
The government is planning to give the mayor control of all eight Royal Parks.
A DCMS spokesperson said the government was committed to transferring management of all Royal Parks to the Greater London Authority (GLA).
Earlier this week Mr Penrose announced that plans to introduce parking charges in Richmond and Bushy Royal Parks in west London were to be scrapped.
Management board
He said the decision had been taken following fierce public opposition and alternative ways would be found to raise money.
Councillor Nicholas True, Leader of Richmond Council, said: "The fiasco of the parking charges and the failure of the Royal Parks Agency to recognise the wishes of local people re-enforces the point that management of Richmond Park needs to be put under direct democratic control."
Richmond Council's proposal has been backed by the leaders of Wandsworth and Kingston Councils whose boroughs also border the park.
They have agreed the most appropriate way to run the park would be for Richmond Council to have responsibility for the day-to-day management.
Representatives from the other two councils would sit on a management board to have input into longer-term plans and operations.
A spokesperson for the DCMS said: "It remains the government's intention to transfer management of all eight Royal Parks to the GLA.
"The role of the Local Authorities in the management structure of Richmond Park will be a matter for the mayor".