UK reporter to stand trial over England fan intrusion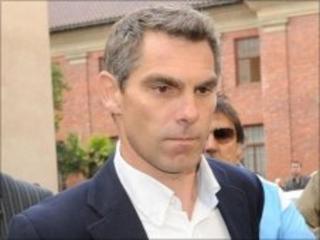 A British Sunday Mirror journalist arrested after a fan entered England's World Cup dressing room is due to go on trial in South Africa this weekend.
Simon Wright is accused of attempting to defeat the ends of justice and breaching the Immigration Act.
His lawyer, William Booth, said there was "never any evidence" of conspiracy between Mr Wright and the football fan.
Fan Pavlos Joseph, 32, from London, paid a £65 fine last week. As a result, all charges against him were dropped.
Mortgage adviser Mr Joseph was discovered in the England team's dressing room in Cape Town's Green Point stadium on 18 June, following England's 0-0 draw with Algeria.
He claims he chanced upon the team while looking for a toilet, but the fan exchanged words about England's performance with former captain David Beckham before he was escorted out.
Mr Joseph told BBC Breakfast on Thursday that he had spoken calmly, but said: "I've spent a lot of money getting out here, that was a disgrace, what are you going to do about it?"
Nobody said anything, but the players looked "shocked", he said.
Telephone call
Mr Wright, who is on bail, made a brief appearance at Cape Town's World Cup court on Thursday, where senior prosecutor Billy Downer announced the trial dates of 10 and 11 July, which coincide with the end of the tournament.
Mr Downer, a deputy director of public prosecutions in the Western Cape, told magistrate Joe Magele: "Hopefully, we'll be able to finish the matter before the World Cup (final) starts."
Mr Booth told the court he wanted to record publicly that there was no charge of conspiracy or collusion between his client and Mr Joseph.
Speaking outside court, he added: "In fact, they met after the incident, as a result of a telephone call made to the Sunday Mirror by Mr Joseph's sister.
"So this whole issue... has no basis whatsoever."
Asked if Mr Joseph might be called as a witness, he said it would be "a bit difficult" getting him to Cape Town for the weekend.
"We'll just have to see how it goes. If we have to call him, and we have to bring an application for the matter to be adjourned and for my client to return to the UK in the meantime, we'll do that," he said.