Carbon capture test plan for Peterhead revealed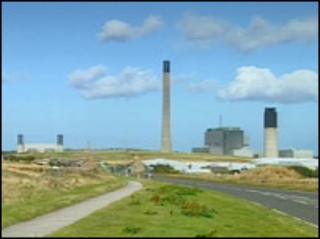 Peterhead power station is to be developed as a testing ground for carbon capture and storage.
Scottish and Southern Energy (SSE) said the initiative would look at a number of options at the gas-fired station.
SNP MP for Banff and Buchan, Dr Eilidh Whiteford, described the announcement as "excellent news" for Scotland's renewable sector.
Plans for a different capture scheme at Peterhead were shelved by oil giant BP in 2007 after government delays.
Carbon capture and storage (CCS) is a process involving the capture of CO2 (carbon dioxide) from power plants and other industrial sources for safe storage in sites such as depleted oil and gas fields.
This new initiative will only explore the possibility of Peterhead being used, because the UK government is currently looking at schemes involving coal-fired power stations.
But Perth-based SSE is keen to persuade the government a gas-fired station would also be suitable for a CCS scheme.
The company said Peterhead was well-located for transport of carbon dioxide emissions and for subsequent storage.
Ian Marchant, SSE chief executive, said: "If long-term targets for reducing emissions are to be met, CCS technology is going to have to apply as widely as possible. This means gas-fired power stations as well as coal.
"I believe Peterhead represents the best site in the UK for a gas CCS project and I hope that our submission to the government will be successful."
Welcoming the news, Dr Whiteford said the project would put Peterhead at the cutting-edge of carbon capture technology.
She added: "The UK government must now recognise the very strong case which exists for this project going ahead and the investment it will bring to Peterhead."
In 2007, BP abandoned proposals to capture carbon dioxide emissions at Peterhead and then export them to the North Sea for enhanced oil recovery and ultimate storage after declaring it could no longer wait for a government decision on the plans.