'More pupils' eat school lunches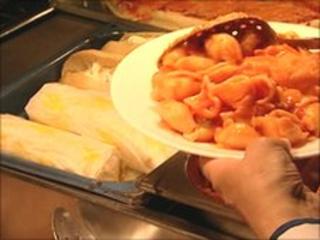 There has been a rise in the number of children eating school lunches in England, data suggests.
But this still leaves less than half of primary pupils and just over a third of secondary pupils eating school lunches, the School Food Trust says.
Take-up in primaries was 41.4%, up 2.1 percentage points on 2008-9, and 35.8% in secondaries, up 0.8 percentage points, it adds.
The government is reviewing school food policy.
The figures come a week after Health Secretary Andrew Lansley criticised TV chef Jamie Oliver's campaign to improve the quality of school meals.
He said "constantly lecturing people" was "counterproductive", saying the number of children eating school meals had gone down in the wake of the campaign.
Healthy message
The School Food Trust said the latest rise was the biggest since the school meals revolution and that the message about healthy school meals was finally getting through.
After Oliver's campaign won huge public support, the government banned junk food from school canteens and vending machines and in 2006 new rules to make food healthier were introduced in English schools.
Strict nutritional guidelines were made compulsory in primary schools in 2008, and the same was introduced in secondaries last September.
The School Food Trust's chairman, Rob Rees, said school meal take-up was already on a downward spiral when Oliver highlighted the issue.
This led to even more children and parents turning their backs on canteens, because they saw how poor food was.
"Now, following the introduction of national standards for meals and the hard work to improve the dining room experience for children, this is being reversed - disproving the myth that children simply don't want to eat healthy food," Mr Rees added.
But he added there was still a huge amount to do before the school meals revolution was complete.
Oliver said it was important that the figure kept on rising and called on the government to invest more.
"Some people in government might look at the figures and think that it's now time to take the foot off the gas because it's a success story," he said.
The government is in the process of reviewing school meals with a view to improving them further.
Children's minister Sarah Teather said: "We welcome the increase in the number of children getting a healthy meal in schools.
"We want to ensure school meals continue to be healthy and will set out the next steps for school food policy in due course."
The Local Authority Caterers' Association said: "In a time of economic uncertainty and tightening of belts, it is even more important for children and young people to have school meals."