Health centre planned for Lauder play area opposed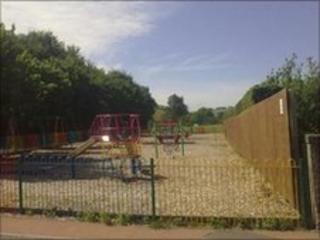 A campaign group has called for the scrapping of plans to build a new Borders health centre on land currently occupied by a children's play area.
Protect Our Greenfield Site (POGS) claims the vast majority of Lauder residents oppose such use of the land.
Scottish Borders Council and NHS Borders are behind the project, which will cost almost £3m.
As well as a health centre, the scheme would see the creation of a new play area and improved sporting facilities.
The play area lies off the town's Crofts Road and is joined to the local public park.
POGS chairman Alan Alexander said the group was not opposed to the idea of a new health centre for Lauder.
Other sites
However, he said they would fight "tooth and nail" to protect the existing park and play area.
Mr Alexander said the local authority and NHS Borders should seriously consider building the new health facility on land at Wyndheads, at one time considered as the site of a primary school, which has now been built at Allanbank.
They could also, he claimed, utilise the site of the now-disused original Lauder Primary School.
Councillors recently agreed to sell the site to social landlords Eildon Housing for £235,000, which intends to build a dozen homes for affordable rent on the school site.
The campaign group chairman said that sale had not been concluded and he hoped the school site could be considered for the new health centre.
SBC leader David Parker said NHS Borders had already looked at the old primary school site but had regarded it as unsuitable for their purpose.
Ownership 'doubts'
POGS, meanwhile, has almost completed a door-to-door survey in Lauder regarding the health centre proposals.
The group claims 88% of those who have responded want the play area and park kept as they are and they have vowed to fight to ensure that will happen.
Mr Alexander also said the ownership of the land in question could be in doubt.
Some locals believe the park was gifted to the town early in the 20th century while others reckon it is the property of Lauder Common Good.
The local authority claims the ground belongs to them.
Mr Alexander said he did not fear losing the new health centre if the play area site was saved, with the money being invested in other projects elsewhere in the Borders.
He said the scheme could be shelved or scrapped in any event, given the continuing severe squeeze on public spending.