Man dies in shooting on A41 at Cricklewood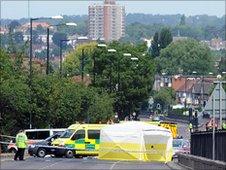 A man has been shot dead on one of north London's busiest roads.
The Metropolitan Police said the victim, aged in his 50s, was shot several times on the six-lane A41 in Cricklewood at about 0830 BST.
An air ambulance crew attended but he was pronounced dead at the scene. No arrests have been made.
The A41 was closed in both directions, causing major travel disruption, while police carried out a fingertip search of the area.
The shooting happened outside houses on the major road.
A forensics tent has been erected at the site where the victim was discovered.
Witnesses said he was shot through the window of his black Volkswagen car.
The victim died in the street and was covered with a white sheet.
A woman who was present in the immediate aftermath said: "What amazes me is that I did not hear anything.
"There are police and ambulances all over the road as far as I can see."
Of the victim, she added: "I can just see two little legs sticking out, it's like a child or a dummy from a shop window."
The car remains in the road with its front bumper against the verge and passenger door open.
A Met spokesman said: "Police were called to reports of a man shot on Hendon Way near the junction with Garth Road.
"The A41 (Hendon Way) has been closed in both directions as officers carry out inquiries.
"Motorists are advised to avoid using the A41 in the Cricklewood area following its closure."
One businessperson based in Hendon Way said: "I can see solid traffic going towards the West End, it's bumper to bumper. To see so much traffic is very unusual."
The A41 is likely to remain closed in both directions for most of the day, police said.
Related Internet Links
The BBC is not responsible for the content of external sites.