Police tackle on-street drinking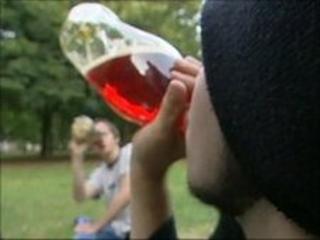 Two hundred items of alcohol were seized by police in Foyle last weekend.
Police officers patrolled Londonderry city centre looking for people in breach of the city's on-street drinking bye laws.
Forty-five reports will be sent to Derry City Council in relation to breaches, and 20 young people will be reported to the youth diversion officer in relation to underage drinking.
In the last 12 months over 3,000 items of alcohol have been seized in Foyle.
Inspector Jon Burrows said officers would be focusing on underage and on-street drinking throughout the summer months.
"The abuse of alcohol is often behind much of the disorderly behaviour that happens around the city centre at the weekend," he said.
"I would appeal to parents to make sure their children are not getting access to alcohol and ask people to abide by the bye-laws."