Men accused of helping gunman Raoul Moat hunt police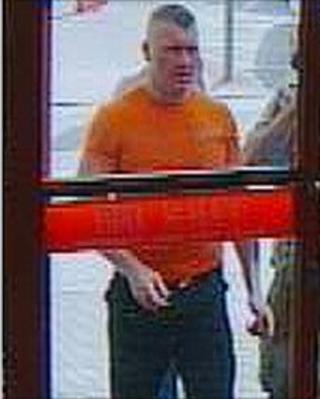 Two men have appeared in court accused of joining fugitive gunman Raoul Moat on a hunt for policemen to shoot.
Moat is wanted after his ex-girlfriend, her new partner - who was killed - and a police officer were shot on Tyneside.
Karl Ness, 26, and Qhuram Awan, 23, are accused of supplying Moat with the gun involved in the shootings.
At Newcastle Magistrates' Court, the pair were remanded in custody charged with conspiracy to commit murder and possessing a firearm with intent.
Mr Ness, from Dudley in North Tyneside, and Mr Awan, from Blyth in Northumberland, are next due to appear in court on 22 July.
Police have issued new images of Moat, 37, taken at a shop in Newcastle on Friday, hours before the shootings.
Officers believe that Mr Ness was with Moat when he shot his former girlfriend Samantha Stobbart and killed her new partner Chris Brown at the weekend.
They were detained by armed police after they were found walking along a road in Rothbury, Northumberland, where the massive search for Moat has now entered its sixth day.
Lawyers for the pair deny their clients were involved in the incidents.
Moat is alleged to have shot and injured his former girlfriend Samantha Stobbart, 22, and killed her new partner Chris Brown, 29, in Birtley, Gateshead, on Saturday.
Pc David Rathband, 42, was shot in his patrol car in Newcastle on Sunday.
Armed officers are continuing to scour countryside around Rothbury, Northumberland, in their hunt for Moat.
Moat is also believed to have carried out an armed robbery at a fish and chip shop in Seaton Delaval, near Blyth, on Monday night.
The new images show Moat in a Newcastle shop on Friday afternoon.
Temporary Deputy Chief Constable Jim Campbell said the images appeared to show Moat had lost weight.
He said: "These CCTV images show Moat in a Newcastle shop on Friday and are the most recent pictures we have of him.
"He looks different in these images compared to previous photographs, and in particular show his hairstyle, what he was wearing, and the fact he seems to have lost weight.
"We're hoping these up-to-date images will help the public identify him. The search for Moat continues, and a wide variety of intensive operational activity is taking place across the force area. Particular focus still remains on the Rothbury area.
"This is a complex investigation and we are committed to resolving this situation as soon as possible."
Meanwhile the brother of Pc Rathband has described the officer as an "inspiration" who was "held in high regard".
Pc Rathband is recovering in hospital after suffering gunshot wounds to his face and chest.
Darren Rathband said: "He's got a long road ahead of him. His family will support him.
"My brother is an inspiration not only to me. He should be an inspiration to everybody involved in this investigation."