Gilad Shalit solidarity march reaches Jerusalem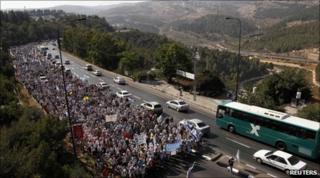 Thousands of Israelis have rallied in Jerusalem following a 12-day march aimed at securing the release of captured Israeli soldier Gilad Shalit.
They are calling on the government to agree a prisoner swap with the Palestinian militant movement Hamas.
Sgt Shalit, now 23, has been held in Gaza since June 2006, when he was captured by Palestinian militants.
Israeli PM Benjamin Netanyahu has offered to release 1,000 Palestinian prisoners, but differences remain.
Yellow ribbons
Traffic was brought to a near standstill as an estimated 15,000 marchers made their way along the main road between Tel Aviv and Jerusalem.
Many of the marchers wore T-shirts bearing an image of the soldier and the words "Gilad is alive", as well as yellow ribbons to symbolise their solidarity.
This is a country where almost every Jewish family has someone in the army, so many Israelis strongly identify with Gilad Shalit, now entering his fifth year in captivity without so much as a visit from the Red Cross, says the BBC's Paul Wood in Jerusalem.
Organisers say 120,000 people joined the march over the entire 12 days of the protest.
Many are the government's natural supporters.
"I'm a mother of a future soldier and I identify with the struggle to get back Shalit," one participant told the BBC.
"This is the most important thing that we can do. I don't think the prime minister or the government have done enough to get Shalit released," she added.
It is not clear if most people have joined the march just to show sympathy for the Shalit family - or if they actively support the family's demand to do whatever deal is necessary to free him, our correspondent adds.
Protesters objecting to the mass release of prisoners were also gathering outside the prime minister's official residence in the capital, Israeli news website Ynet News reported.
The soldier's father, Noam Shalit, has vowed to camp there until his son is released.
For Hamas, the Israeli soldier remains their most valuable asset, and they will not give him up unless they get some of their key people in return, our correspondent says.
Mr Netanyahu says he will release 1,000 Palestinian prisoners - but not all those that Hamas wants, some of whom are serving multiple life sentences for organising suicide bombings.
According to official Israeli figures, 6,338 Palestinians are in Israeli detention of some kind. Of these, 213 are in administrative detention, held without trial or charge. In all, 300 are minors, or under the age of 18.