Farmers' crops 'affected by lack of rainfall'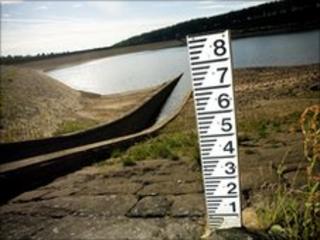 A lack of rainfall may have a severe impact on farmers in Oxfordshire, the National Farmers Union (NFU) has warned.
The organisation said its members in the county were concerned about the dry weather affecting crop yields.
The cost of bedding and feed had also increased, the NFU added.
The Met Office says the UK had one of the driest first six months of the year for 100 years, with below average rainfall.
NFU spokesperson Isobel Bretherton said the dry winter had also caused problems for farmers.
She said: "They have used up all their spare feed stocks through the hard winter.
"Because the grass hasn't grown they've had to give extra feed to their animals.
"It means they'll have to buy in extra hay and straw to use for bedding for their livestock over the winter months."
Prices of food in the shops should not be affected, she added.
David Parsemore runs Mays Farm near Wallingford, farming cattle, sheep and arable crops on 800 acres of land.
"We're running short of forage, the crops are dying rather than ripening so the harvest is certainly going to be below average.
"We don't know how bad it'll be before we start cutting.
"The cost of straw and hay may also be sky high towards the winter, which for livestock farmers is a real worry."