Chinese tree flowers for first time in 91 years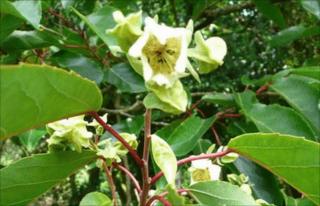 An ancient Chinese proverb tells us that with patience a mulberry leaf eventually becomes a silk gown.
Its wisdom is not lost on staff at Rowallane Garden near Saintfield County Down.
Since 1919, gardeners there have tended to the Chinese Goat Horn Tree, hoping that one day it would show off its capricious flower.
After 91 summers, the day has finally arrived.
"We had noticed in June that the tree was making flower bud growth which has slowly developed over the past week or so," head gardener Averill Milligan said.
"We were intrigued to see what they were going to look like and have been keeping a close eye on it."
Last weekend, the first buds opened into a mortally pale white flower, with a scent of gentle levity.
After the flowers come long, curved, spindle-shaped fruits which resemble the horn of the goat and give the plant its name.
Meticulously maintained records show the plant was brought home by plant collector Ernest H Wilson from Sichuan in Western China in 1908.
A sapling from the original seeds was planted in the gardens of Rowallane country estate in Saintfield in 1919.
There are only two specimens from the original Wilson seed introduction currently alive, with the other at Birr Castle, County Offaly in the Irish Republic.
All others appear to have died out in the middle of the 20th century.