Maldives president reappoints his cabinet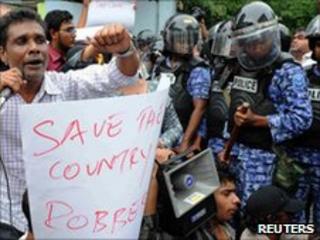 Maldives President Mohamed Nasheed has reappointed his cabinet which staged a mass resignation last week.
He swore in the 13-member cabinet on the seafront in the capital, Male.
The president gave ministers the same portfolio they had before they resigned, officials in the president's office said.
The 13 resigned in protest at what they said were attempts by parliament of the Indian Ocean country repeatedly to block the government's work.
Presidential aides say that Mr Nasheed is eager to end his power struggle with parliament.
But the BBC's Charles Haviland in Colombo says the impasse could start again soon as parliament still has to give its "consent" to the cabinet reappointments while two opposition MPs remain under house arrest for allegedly buying votes.
Each cabinet member nominated by the president must be approved by parliament, which can later seek to remove a minister through a no-confidence vote.
Correspondents say that the opposition-controlled parliament had planned to bring a no-confidence motion against the education minister but the cabinet resignation pre-empted the move.
President Nasheed was elected in October 2008 for a five-year term while the parliament was elected in May 2009, also for a five-year term.