China to roll out nationwide tax on oil and gas sales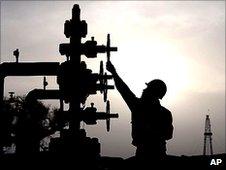 China has confirmed that a new tax on sales of primary resources will be rolled out nationwide.
The 5% tax is being tested in the western province of Xinjiang, with revenues going to the local government.
Beijing also plans to tax other raw materials, although the tax rate may vary, a government spokesman said.
"The reform will clearly increase the local fiscal income of the resource-rich western regions," said Du Ying of the Chinese planning agency.
Before going nationwide, the tax will first be rolled out across the other Western regions of China - including Tibet - and will be extended to coal sales.
The resources tax will meet demands from local government for more fiscal autonomy.
In Xinjiang - which has significant commodity deposits - there was already a tax on oil and gas output, which will now be replaced by the new sales tax.
Mr Du said that the sales tax was expected to increase revenues for the vast northwestern region.
Xinjiang is predominately Muslim, and is home to the minority Uighur people.
Like neighbouring Tibet, the region has been struck in recent years by growing protests - both violent and non-violent - for greater autonomy or independence.
However, the tax proceeds may be used to promote a process of industrial development and urbanisation that has gone hand-in-hand with immigration of ethnic Chinese into the region.
The nationwide resources tax is likely to be welcomed by regional governments, which have seen their borrowing restricted by the central government in Beijing.
Many Chinese local governments have borrowed against state-owned land at a time when China is thought to be suffering from a real estate bubble.
They have also in some cases borrowed from international banks, something that the Beijing authorities say is illegal.
The tax may offset the impact on domestic energy and commodity prices of a recent shift in China's exchange rate policy.
The new "flexible" yuan policy is widely expected to allow the Chinese currency to increase in value against the dollar over the coming months.
This would make the cost of commodity and energy imports - on which the Chinese economy is heavily dependent - cheaper.
Related Internet Links
The BBC is not responsible for the content of external sites.