Funding for Camborne and Plymouth housing schemes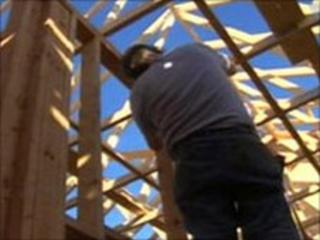 The green light has been given to two major housing schemes in deprived urban areas in the South West.
Camborne's Dolcoath housing scheme in Cornwall and Plymouth's Redrow development in Devonport, have jointly been awarded £10m.
The money is from a government fund designed to kick-start schemes that stalled in the recession.
There had been fears funding was about to be withdrawn, but work can now start on 200 homes across the two sites.
Funding confirmation for the schemes came from the government's Homes and Communities Agency (HCA).
The £6.7m HCA investment in Dolcoath will provide a projected 107 new and affordable homes.
It is part of a bigger project to build nearly 400 properties on the former Comp-Air Holman site and is the first major scheme to be developed in the Camborne, Pool and Redruth areas in partnership with the CPR Regeneration company.
HCA director Colin Molton said it was good news for the long term future of the area.
"It will unlock progress on a stalled development, helping to safeguard and create jobs as well as build much needed new housing in the area," he said.
"I look forward to work starting on site, so that local people can begin to see the vision for Dolcoath being turned into reality."
'Rejuvenated' community
In Plymouth, the HCA is investing nearly £3m to build 90 new and affordable homes on a historic waterfront development in Devonport.
The redevelopment of the former Ministry of Defence storage depot will include high quality housing and commercial units.
Of these, 12 will be available to rent and three will be available to buy through the low cost home ownership programme.
Barry Stiles, regional director of Plymouth developer Redrow Homes, said the company had worked tirelessly to secure the funding.
"We can now look forward to delivering a real destination, where people want to live as part of an exiting, rejuvenated, Devonport community," he said.
The agency's investment in the greater South West through the kick start scheme is about £27.6m for a total of 1,450 new homes.