Disciplinary action against Jersey police chief dropped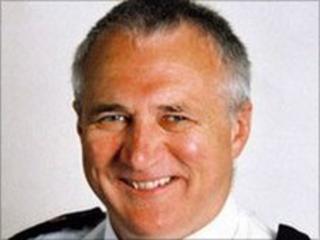 Disciplinary action against Jersey's chief of police has been dropped, the home affairs minister has said.
Graham Power was suspended in 2008 over the way he handled Jersey's historic abuse inquiry into former children's home Haut de la Garenne.
The minister, Senator Ian Le Marquand, told the States the action was dropped against Mr Power because time had run out before his retirement in August.
Mr Power, who has always denied any wrongdoing, said he welcomed the news.
Police in Jersey began a covert investigation, dubbed the historic abuse inquiry, into the former children's home Haut de la Garenne in 2006.
It became public in February 2008 when officers said they had found what was believed to be part of a child's skull.
But the piece of suspected skull later turned out to be a piece of coconut and Mr Power was suspended in November 2008.
The 63-year-old, who must retire by the end of the year, gave six months' notice of his August departure.
Senator Le Marquand told BBC Jersey: "To be fair to Mr Power I have to accept that the formal process will never be completed, it simply ran out of time
"Of course he did bring forward his dates for retirement and that was his decision not mine.
"But at the end of the day there is still evidence of serious failures on his part."
A separate review into the historic abuse inquiry is currently being undertaken by Wiltshire Police.
Senator Le Marquand said: "What I want to do is put out to the public the details of the findings of Wiltshire [police] in relation to this and also I'm hoping to be able to put out the findings of the account and then people will see that there's very serious financial mismanagement in relation to this, apart from other issues."
In a statement, Mr Power said: "In common with everyone else, I am entitled to be presumed innocent until proven guilty.
"The abandonment of disciplinary proceedings after almost two years means that I can now be regarded as having been exonerated of all allegations."