Hamza and suspects: Key allegations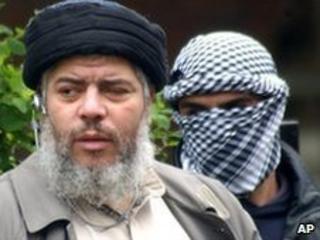 The European Court of Human Rights says it wants to further investigate the proposed extradition of four terrorism suspects from the UK to US. The four men, including radical cleric Abu Hamza, have fought a long battle against being sent to the US. These are the key allegations against them, which they all deny.
ABU HAMZA
Abu Hamza is currently in Belmarsh maximum security prison in south-east London, serving a seven-year sentence for soliciting to murder and racial hatred. The cleric once controlled one of London's largest mosques until he was forced out by a co-ordinated action by the police and local Muslims opposed to his extreme views.
In 2004, the US sought his extradition on 11 terrorism-related charges:
Accused of helping hostage taking
US prosecutors say that he played the key role in a hostage-taking drama in Yemen in 1998 in which extremists kidnapped 16 Western tourists. Eventually there was a gun battle with security forces, leading to the deaths of three Britons and one Australian.
Hamza was living in London at the time but is accused of providing a satellite phone and £500 of credit to the armed group behind the kidnapping. The US indictment says that Hamza received three calls from the phone the day before the kidnapping and had agreed to play an intermediary role in the plot.
Conspiracy to establish a terrorism training camp
In 1999 Abu Hamza allegedly became involved in a plan between British and American extremists to set up a secret military training facility on a remote farm in Bly, Oregon. US court papers show that recruits to the camp would be prepared for military action in Afghanistan and that it was specifically linked to supporting al-Qaeda. One conspirator said that the location was "just like Afghanistan" and US members of the conspiracy were stockpiling weapons in readiness for opening the doors.
Facilitating violent jihad in Afghanistan
In June 2000, one of Hamza's men flew to New York ostensibly to raise money for religious purposes in London. But five months later, the cash was used to help fund the travel and safe passage of men heading for an Afghan training camp.
Supplying the Taliban
Between 2000 and 2001 Abu Hamza is accused of using his website, Supporters of Shariah, to raise funds and materials for the Taliban. Hamza also sent some of his sermons to Afghanistan and allegedly raised £6,000 to set up a "computer lab" for the Taliban in Kandahar.
HAROON RASHID ASWAT
Accused over the Oregon camp
Haroon Rashid Aswat was one of Abu Hamza's closest confidantes in London. He was often by the cleric's side at public events and travelled with him. US court papers say that Hamza sent Mr Aswat to the US in 1999 to work on the camp project.
He is said to have arrived at the site in November 1999. Mr Aswat, who is from Dewsbury in West Yorkshire, is accused of going on to stay in a mosque in Seattle with another man who was trying to recruit people for jihad.
In July 2005, police in Zambia arrested Mr Aswat and deported him. He was arrested when he arrived back in the UK. He has not been prosecuted in the UK.
BABAR AHMAD AND SYED TAHLA AHSAN
Babar Ahmad is from Tooting in south London. Last year, he won a long legal battle to receive £60,000 compensation from the Metropolitan Police after he said that he had been beaten by their officers when he was initially arrested in December 2003. He has never been convicted of a terrorist offence in the UK.
Providing support and resources to jihadists
US prosecutors allege that between 1997 and 2004 Babar Ahmad played a key role in Europe in encouraging support for violent movements around the world.
He had allegedly established websites operating under the name Azzam Publications to raise money and material support for both the Taliban and armed groups fighting Russians in Chechnya.
Babar Ahmad is accused of seeking recruits to send to Afghanistan, including through producing videos celebrating the actions of other Muslims who went to fight. He is also accused of shipping gas masks to the Taliban.
Syed Tahla Ahsan is accused of related offences and has not been prosecuted in the UK.
Acquired US military documents
In 2001 Babar Ahmad was allegedly in contact with a sympathiser who, at that time, was in the US Navy and on board the USS Benfold, a destroyer.
Mr Ahmad allegedly acquired plans from this sympathiser that showed the vulnerabilities of the USS Benfold's battle group as it was planning to take up a position in the Gulf.