Glee challenges 30 Rock Emmy run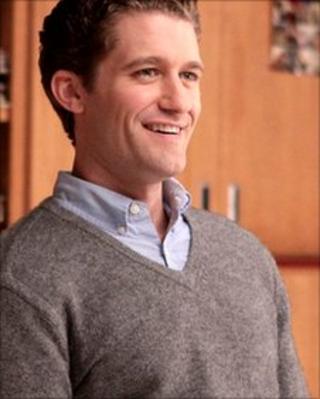 Hit musical comedy Glee is in pole position to end 30 Rock's three-year run as best comedy in the nominations for the US TV Emmy Awards.
Glee, which has 19 nominations in total, and 30 Rock go up against Curb Your Enthusiasm, Modern Family, Nurse Jackie and The Office.
HBO's World War II mini-series The Pacific, co-produced by Steven Spielberg, leads the way with 24 nods.
The 62nd Emmy Awards will take place on 29 August in Los Angeles.
Glee, which is broadcast on E4 and Channel 4 in the UK, also received best comedy actor nominations for Matthew Morrison, who plays teacher Will Schuester, and Lea Michele - Rachel Berry in the series.
Glee's Morrison goes up against actors including previous winner Steve Carell of The Office - with his fifth nomination in a row - and Curb Your Enthusiasm' s Larry David.
In the best comedy category, Glee and 30 Rock face competition from new show Modern Family, which is made in the style of a mock documentary focusing on the lives of one extended family.
Meanwhile, former ER star Julianna Margulies is nominated for best actress in a drama for her role as the wife of a disgraced public official in The Good Wife.
The Pacific, narrated by Tom Hanks - who is also an executive producer - is nominated in categories including best mini-series.
The show, which tells the story of three Marines fighting America's battle with the Japanese in the Pacific, goes up against the BBC's Return To Cranford, starring Dame Judi Dench.
Dame Judi is nominated for best actress in a mini-series for Cranford and is pitched against fellow Briton Dame Maggie Smith for Capturing Mary.
Flying flag
The equivalent category for an actor is also a battle of the Britons with nominees including Sir Ian McKellen and Michael Sheen.
Sir Ian is up for The Prisoner while Sheen is nominated for his role as Tony Blair in The Special Relationship, penned by The Queen and Frost/Nixon screenwriter Peter Morgan, who is recognised in the mini-series writing category.
Morgan's drama is also in the running for best TV movie.
Dame Judi's Cranford co-star Jonathan Pryce, meanwhile, is up for best supporting actor in a mini-series.
Period drama Mad Men has 17 nominations including for best drama series, a category which includes vampire show True Blood and Lost, which ended this year after six seasons.
Lost star Matthew Fox is nominated for best actor in a drama against fellow contenders including Hugh Laurie for House.
The British actor won the equivalent Golden Globe award in 2006 and 2007.
Other actors flying the flag for the UK include Sir Patrick Stewart, for Hamlet, and Sir Michael Gambon, for BBC Jane Austen adaptation Emma - both up for best supporting actor in a mini-series.
There were also nods for Jamie Oliver's Food Revolution for the reality award, Believe: The Eddie Izzard Story for non-fiction special, and cartoon podcast The Ricky Gervais Show for best animation.