Jersey firefighters tackle Ouaisne furze blaze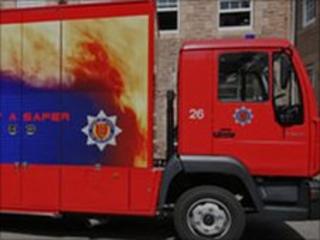 Firefighters have tackled a large furze fire in the St Brelade area of Jersey.
The fire service said the alarm was raised by members of the public at about 2240 BST on Wednesday.
It took about two hours for 16 firefighters to control the blaze near Ouaisne Common, which is believed to have started accidentally.
The fire service has warned that hedges and furze in the island are very dry at the moment and could catch alight very easily.
Fire station manager Michael Baudains said: "We have a limited number of firefighters on the island and these types of fires require us to commit large numbers of our resources for days at a time.
"Although we are experienced and equipped to deal with these types of incident, every incident of this type stretches our recourses to the maximum."
Due to the inadequate water supplies in the area, a specialised water carrier was dispatched to the area.
No-one was injured.