Famous New Zealand dolphin Moko 'is dead'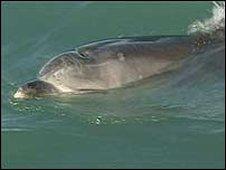 A New Zealand dolphin who made headlines for his playful - sometimes overly-playful - behaviour with swimmers is believed to have died.
Moko was a familiar sight around the North Island's eastern beaches, swimming among bathers but sometimes blocking them from reaching shore.
Conservationists confirmed the carcass of a bottlenose dolphin was "probably" Moko, and tests are being done.
Moko made headlines in 2008 by rescuing two stranded whales.
He was spotted guiding two pygmy sperm whales who had become trapped between a sandbar and the beach through a narrow channel out to sea.
The dolphin carcass was found on an eastern North Island beach on Wednesday - two weeks after Moko was last seen.
"Based on the size, markings and teeth of the carcass, we think that this is Moko," said Jamie Quirk of the Department of Conservation.
He did not speculate on what may have caused the death, but DNA testing is due to be carried to confirm whether it is the famous dolphin.
"This is a sad loss," said Andrew Baucke, area manager of the conservation department.
"The way that Moko interacted with people really inspired public interest and care for dolphins and marine mammals and their environment".
Moko first came to public attention in 2007 after taking up residence at Mahia Beach, south of Gisborne.
He delighted the hundreds of bathers who would take to the sea to swim with him.
However, as the solitary dolphin got older his play sometimes became rougher.
A woman last year spoke of how she had swum out to play with Moko, but when she wanted to return to shore he "just wanted to keep playing" and refused to let her go.
She was found exhausted and extremely cold, clinging to a buoy.
Others reported how Moko would steal surfboards and balls, overturn kayaks and water-skiers.
Scientists had been concerned about Moko's welfare, pointing out that of the 30 "lone" dolphins identified around the world, 14 had already been injured or had died as a result of their interaction with humans.
Related Internet Links
The BBC is not responsible for the content of external sites.