US senators call for Lockerbie bomber release probe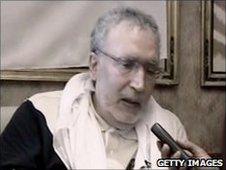 Four US senators are calling on Britain to investigate the circumstances surrounding the release of the man convicted of the Lockerbie bombing.
Abdelbaset al-Megrahi, who has terminal prostate cancer, was freed by Scottish Justice Secretary Kenny MacAskill on compassionate grounds in August 2009.
Medical reports claimed he only had months to live.
One of the authors, Professor Karol Sikora, said there was always a chance he would live for 10 years or more.
Senators from New York and New Jersey have now asked for an investigation in a letter to the UK's ambassador to the US.
A total of 270 people died when Pan Am Flight 103 exploded over Lockerbie in 1988, including 189 Americans. The flight was on its way to New York at the time.
When Megrahi was freed on compassionate grounds, US President Barack Obama said the decision was "a mistake" and some of the US victims' families reacted angrily.
Related Internet Links
The BBC is not responsible for the content of external sites.