Bath Uni developing new bandage to help fight infection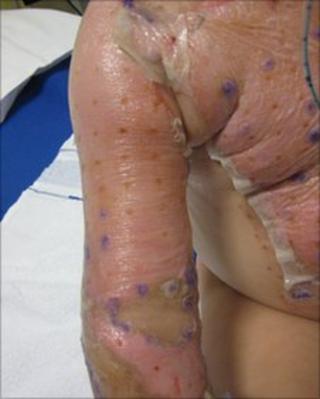 A medical dressing that both detects and treats infection in wounds is being developed by scientists at the University of Bath.
The bandages would release antibiotics from nanocapsules and change colour to show the presence of harmful bacteria.
The team said it was an important step in treating burns patients, in which infections can lead to potentially-fatal toxic shock syndrome.
The £3.7m project is funded by the European Commission.
The prototype is expected to be ready within five years.
Project leader Dr Toby Jenkins said: "Your skin is normally home to billions of 'friendly' bacteria, which it needs to stay healthy.
"The dressing is only triggered by disease-causing bacteria, which produce toxins that break open capsules containing the antibiotics and dye.
"This means that antibiotics are only released when needed, which reduces the risk of the evolution of new antibiotic-resistant super-bugs such as MRSA."
Boiling tea
In September 2008, 13-month old Isambard Ebbutt pulled a boiling hot cup of tea over himself causing 32% burns across his face and body.
He was taken to Frenchay Hospital in Bristol for treatment.
His mother Natalie said: "I knew that the biggest chance of losing my child was if an infection took hold but all I could do was cross my fingers and hope for the best.
"To think now that there is a possibility of avoiding serious infection and complications with this project is amazing."
Dr Amber Young, a paediatric burn specialist at the South West UK Paediatric Burn Centre, based at Frenchay Hospital, will be the clinical consultant on the project.
She said: "Many people don't realise that a burn from a cup of tea can be deadly if it becomes infected.
"Conventional dressings have to be removed if the skin becomes infected, which slows healing and can be distressing for the child.
"This advanced dressing will speed up treatment because it is automatically triggered to release antibiotics only when the wound becomes infected, meaning that the dressing will not need to be removed, thereby increasing the chances of the wound healing without scarring."
The Bacteriosafe team said the dressing could also be used for other types of wound, such as ulcers, or by the military on the battlefield.