Speculation growing of US-Russia 'spy swap'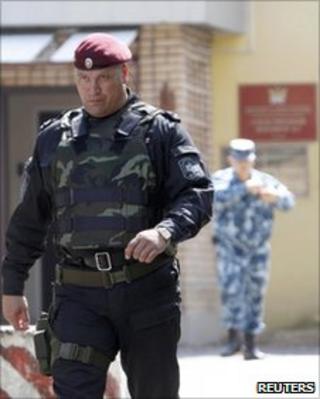 Speculation is growing that the US and Russia are preparing a Cold War-style prisoner swap.
The US lawyer defending one of 10 suspected Russian spies has said the case may be resolved when they face formal charges later on Thursday.
A Russian scientist convicted of espionage is said to be involved in a possible swap.
Early reports that he had been flown to Vienna have been dismissed by his family as "speculation".
Igor Sutyagin's father Vyacheslav denied earlier Russian news agency reports that he had received news of his son's arrival in Austria.
"This is all speculation, don't take it seriously," he told the BBC.
Austria's foreign ministry told Reuters it could neither confirm nor deny Sutyagin's arrival on its soil.
Neither Russian nor US authorities have commented on reports of a swap.
Five suspects detained in Massachusetts and Virginia are being brought to New York to face charges along with five already held in the city.
'List of names'
News of Sutyagin's release was broken by his lawyer in Moscow, Anna Stavitskaya, who quoted the prisoner's father.
She said the father had been informed by a journalist by phone that his son had arrived at a Vienna airport and been met "by an officer".
Ms Stavitskaya said she had not been able to confirm the news with the Russian authorities.
Sutyagin was jailed in Russia in 2004 for spying for the CIA.
After being moved from a prison in the far north of Russia to a Moscow jail this week, he was allowed to meet his family, who said he had told them his release via Vienna was planned for Thursday.
His brother Dmitry said Igor had been told by Russian officials that his release would be part of a spy swap.
US officials were present at the meeting, Dmitry said, adding that his brother had seen a list of about 10 Russian prisoners that the US had given Moscow that included Sergei Skripal.
Skripal is a Russian military intelligence (GRU) officer convicted of spying for the UK in 2006.
Russian newspaper Kommersant said the list included Alexander Zaporozhsky, a former employee of Russia's Foreign Intelligence who was jailed for 18 years for espionage in 2003, and Alexander Sypachev, sentenced in 2002 to eight years in jail for spying for the CIA.
It remains unclear whether the suspects held in New York are to be involved in any swap but, in a move that fuelled speculation, a top US diplomat met the Russian ambassador to Washington.
No details were given of the talks between undersecretary of state for political affairs William Burns, a former US ambassador to Moscow, and Ambassador Sergei Kislyak other than the fact that the issue of spies came up in the meeting, in which they also discussed Iran.
Indictment
A federal indictment against the 10 suspects held in the US, and an 11th suspect who went missing after being released on bail in Cyprus, was unsealed on Wednesday.
It charges all 11 with conspiring to act as secret agents, and nine of them with conspiracy to commit money-laundering.
A lawyer for one of the accused said he had spoken to US prosecutors and Russian officials about a speedy resolution to the case and that a swap could be finalised on Thursday.
"I feel our discussions will probably be resolved by tomorrow one way or another," Anna Chapman's lawyer Robert Baum was quoted as saying by the New York Times.
Another lawyer said it was possible that some or all of the defendants would plead guilty at their arraignment hearing in New York on Thursday, allowing them to be speedily deported.
The 10 were arrested last month on suspicion of conspiring to work as illegal agents for the Russian government.
The crime is less serious than espionage but carries a sentence of up to five years in prison.
Nine of the group are also accused of laundering money.