Dafydd Wigley 'not standing' in 2011 assembly polls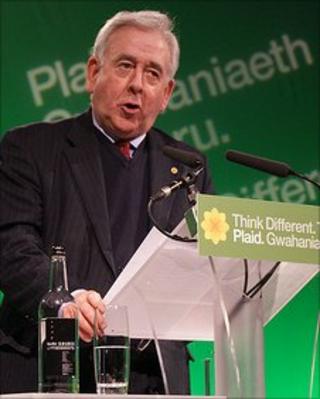 Dafydd Wigley, the former leader of Plaid Cymru, has announced he will not stand in next year's Welsh assembly elections.
The one-time MP and AM for Caernarfon says he is standing aside to make way for younger talent within the party.
Mr Wigley failed to win a seat in the 2007 assembly polls when second on the party's north Wales regional list.
The 67-year-old, who is the party's honorary president, led Plaid Cymru from 1981-84 and between 1991-2000.
Mr Wigley said he had to make up his mind when nominations for the assembly elections opened this week.
He said: "I'm, very conscious that we have some very good young candidates coming up in Plaid Cymru, which is a great tonic for me personally and for the party, and I think it's right that I stand to one side now.
"I've no doubt there will be opportunities from time to time to help, in policy development and in supporting candidates during the campaign, which I'll be very glad to do."
Last year he withdrew his name for a House of Lords nomination for Plaid Cymru, blaming the then prime minister, Gordon Brown, for blocking the party's nominees.
Candidates for next year's assembly elections have until at the end of the month to submit their names.