Widow tells royal reception of Cumbria Pc's bravery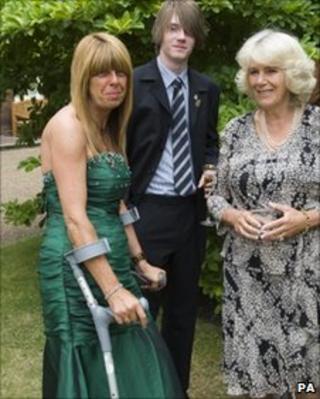 The widow of Pc Bill Barker has told how he was laughing and joking in their last phone call before his death in the Cumbria floods.
Hazel Barker was speaking at a reception hosted by the Prince of Wales and Duchess of Cornwall for officers killed while on duty.
Pc Barker, 44, was directing traffic away from Northside Bridge in Workington when it collapsed.
Mrs Barker said her husband tried to make light of difficult situations.
The father-of-four, from Egremont, fell into the River Derwent, swollen by record rainfall, on 20 November.
Mrs Barker said: "The rain that night was at first, we felt, no different from any other night. In Cumbria we were used to very heavy rain.
"But I got a phone call saying it was starting to flood in the police station. They were trying to get everything up high.
'Make a difference'
"Bill always tried to make light of the situation and make the best of a situation. He was singing Singing In The Rain.
"That was what made it so hard. There was no reason at all to suspect that things were going to go wrong."
Pc Barker was due to celebrate his 45th birthday the day after the incident.
Mrs Barker added: "Every single officer in this country, every shift they go on, there is a potential for this to happen.
"Sadly it's only recognised, the work that they do, on occasions like this.
"He joined the service to make a difference and he made that difference."
A service of thanks to Pc Barker's commitment to the community will be held at St Michael's Church in Workington on 10 July.