Fire explosion risk keeps Newquay-Par branch line shut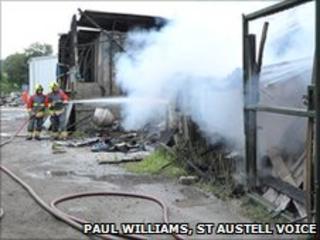 The risk of gas cylinders exploding in a workshop fire has closed a railway line in Cornwall for a second day.
Firefighters worked through the night to tackle the blaze at the workshop in Luxulyan, which started on Wednesday at about 1700 BST.
A 200m (660ft) exclusion zone remains in place because of concerns about the gas cylinders.
Services on the Newquay to Par branch line, which is within the zone, have been cancelled.
Cooling period
At the height of the fire, 50 firefighters from across mid-Cornwall tackled the flames and water was taken from a nearby river.
No houses have been evacuated, but the occupants of two caravans were moved to safety.
Kevin Thomas, of Cornwall Fire and Rescue Service, said the brigade's priority was to ensure the acetylene cylinders do not explode.
They will have to be cooled for a minimum of 24 hours before they can be moved safely.
No-one has been injured in the fire.