German imports and exports rise sharply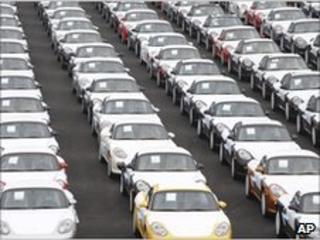 German imports have risen at their fastest rate since unification in 1990, outpacing a sharp rise in exports.
Imports rose by 14.8% in May compared with the previous month, while exports grew by 9.2%. Both figures were much higher than analysts had expected.
As a result, Germany's trade surplus narrowed to 10.6bn euros ($13.4bn; £8.8bn) for the month.
Analysts said the data showed Europe's biggest economy was growing strongly.
The reason, they said, was strong demand for German goods in Asia. A weakening euro, which makes the goods cheaper overseas, had also helped.
The euro has been hit in recent months by concerns about government debt levels and, more recently, by fears about the liquidity levels of banks.
'Ash cloud'
"The strong economic upturn in Germany is continuing unabated. The reasons are well known - demand in Asia is strong and the weak euro is helping," said Unicredit analyst Andreas Rees.
"The strong increase in imports is an encouraging signal that shows the upturn is gaining pace. This all suggests the German economy grew quite strongly in the second quarter - we're expecting to see growth of about 1%."
The month-on-month import and export figures were also boosted by the comparison with the relatively weak data from April.
"Exports and imports have both risen considerably. A reason for that could be the catch-up effect from the ash cloud in April that brought air transport to a virtual standstill for a while. A lot of that was compensated for in May," said Citigroup analyst Juergen Michels.
He also predicted growth of 1% between April and June.