Head teacher tribute to Bradford fire death children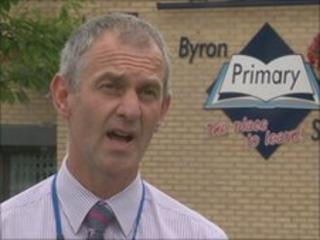 Two children who died in a house fire have been praised by their head teacher for their "wonderful attitude".
Richard O'Sullivan said Alina Shah, 10, and her brother Aman Shah, eight, "made a great contribution to school life" at Byron Primary school in Bradford.
Alina died at the scene and Aman died shortly after arriving at hospital following the fire at their house in Hendford Drive on Tuesday.
A 21-year-old Bradford man has been arrested on suspicion of murder.
Post-mortem tests carried out on the children found they had died as a result of the inhalation of fumes.
Mr O'Sullivan said: "They were superb children. The teachers have nothing but praise to say of them. Both very well behaved and had a wonderful attitude to school."
Blaze intensity
"They both made a great contribution to school life," he said.
"Alina had just won a prize in a writing competition she had taken part in.
"Aman wanted to do as many clubs and take part in as many different things as he possibly could so we are all very sad."
The children's 30-year-old mother is thought to have jumped from a window to escape and suffered "life-threatening" injuries in what firefighters called an "extremely severe fire".
The children's uncle and a 19-year-old neighbour Fazal Mohammed smashed the windows to try to rescue the children but were unable to because of the intensity of the blaze.
Other neighbours carried buckets of water to try to help extinguish the flames.
Police and West Yorkshire Fire and Rescue Service are continuing their investigations.
They have appealed for information about anyone who may have bought small amounts of petrol in cans in the area on either Monday evening or in the early hours of Tuesday.