Newspaper review: Gunman hunt stays on front pages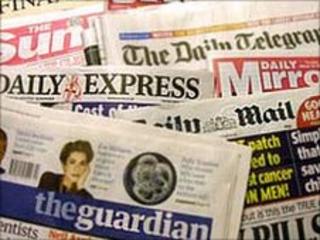 Several papers again lead with the police hunt for Raoul Moat.
The Daily Mail claims special forces have been drafted in to find the alleged killer gunman.
The Sun focuses on an interview given to the media by his mother, Josphine Healey, under its lead headline: "you're better off dead, son".
The Daily Mirror claims he threatened to kill his mother after a bitter feud, and shows early pictures of an "angelic boy who became a monster".
Most wanted
The Daily Telegraph is among several papers also showing new pictures of Raoul Moat from the family album, including one of him aged three.
He can be seen posing at a family wedding, on a day out to Newcastle, and elsewhere, playing with his pets.
The Guardian says he is Britain's most wanted man and quotes his mother saying the man is not the boy she knew.
Shoot-to-kill snipers have been drafted in, according to the lead in the Daily Star.
Spy exchange?
Several papers say Russia and the US are preparing a swap for some or all of the 10 people held in the US over claims they ran a spy ring for Moscow.
The Times talks of a "Cold War-style operation", and the Independent of an "audacious spy-exchange deal".
The Daily Mail rails against five peers who have left the House of Lords so they can keep their non dom tax status.
It asks why they should be allowed to retain their titles "if they put their bank balances before public duties".
Pressing needs
The Times starkly reflects on the withdrawal of UK forces from Sangin in Helmand, claiming Britain has failed.
Finally, the best way for a man to win a woman's heart is... by doing the ironing, the Daily Express suggests.
A survey says half the nation's women would be more impressed if their partner did the ironing than if they took them for a weekend away.
Taking the rubbish out or doing the washing up was said to be another winning tactic, the Daily Mail says.