CNN sacks editor over Muslim cleric Twitter remark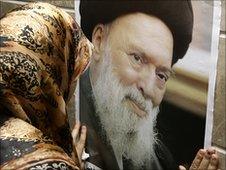 CNN has sacked a veteran Middle East editor after she wrote on Twitter that she "respected" a late senior Lebanese cleric said to have inspired Hezbollah.
A CNN official said Octavia Nasr was leaving the US TV news network because her credibility had been "compromised".
Nasr has described her 140-character remarks about Grand Ayatollah Mohammed Hussein Fadlallah, who died on Sunday, as an "error of judgement".
She said she had been referring to his "pioneering" views on women's rights.
'Immediate, overwhelming reaction'
Ayatollah Fadlallah, Lebanon's top Shia Muslim cleric, died at the age of 74. He was customarily described as the spiritual leader of the militant movement Hezbollah when it was formed in 1982 - a claim both he and the group denied.
Ms Nasr was CNN's senior editor of Middle East affairs and had been with the network for two decades, largely in an off-camera role.
After hearing of Ayatollah Fadlallah's death, she wrote on the micro-blogging site Twitter: "Sad to hear of the passing of Sayyed Mohammad Hussein Fadlallah... One of Hezbollah's giants I respect a lot."
In a blog post on Tuesday, she wrote: "Reaction to my tweet was immediate, overwhelming and provides a good lesson on why 140 characters should not be used to comment on controversial or sensitive issues, especially those dealing with the Middle East."
The offending Twitter post now appears to have been deleted.
The US and Israel view Hezbollah as a terrorist group.
Related Internet Links
The BBC is not responsible for the content of external sites.