Turner masterpiece sold for £30m record at auction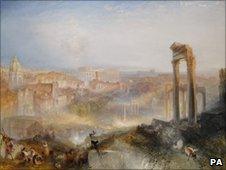 A Turner masterpiece has sold for almost £30m - a new auction record for the British master.
Joseph Mallord William Turner's Modern Rome - Campo Vaccino, fetched £29,721,150 at Sotheby's in London.
The painting was sold by a descendant of the fifth Earl of Rosebery, who bought it in 1878 while on honeymoon with his wife Hannah Rothschild.
The previous record for a Turner was £20.5m for a view of Venice, which went under the hammer in April 2006.
The latest sale, in central London, saw six bidders push the price comfortably above pre-sale estimates, to the delight of Sotheby's.
Deputy chairman, David Moore-Gwyn, said: "Turner's Modern Rome - Campo Vaccino has achieved a tremendous and much-deserved result.
"This breathtaking image shows the artist at his absolute best and, for collectors, it ticked all the boxes - quality, superb condition, provenance and freshness-to-the-market.
"Over the last few months it has been wonderful to observe the response that the painting has received from collectors who come from all over the world."
The masterpiece had been on loan at the National Galleries of Scotlnd for the past 30 years.
The UK market for modern masters has remained buoyant, driven mainly by foreign investors from China, Russia and the Middle East.
Earlier this month, a "blue period" Picasso fetched £34.7m at Christie's in London.
The 1903 painting, Portrait of Angel Fernandez de Soto, was sold by the Andrew Lloyd Webber Art Foundation.
Turner is considered to be one of the greatest English landscape painters, renowned for his dramatic treatment of light and atmosphere.
The son of a barber, he was born in 1775 in Covent Garden, London, and began studying at the Royal Academy Schools aged 14.
His early work consisted mainly of watercolours, but in 1796 he exhibited his first oil painting at the Royal Academy.
He later built a gallery in his house in Harley Street, while continuing to exhibit at the Royal Academy.
Related Internet Links
The BBC is not responsible for the content of external sites.