Pension cuts proposed for university staff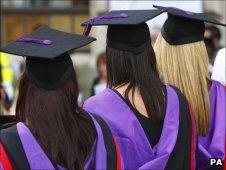 A quarter of a million workers at 400 universities, higher education colleges and associated institutions face cuts in their pensions.
A range of changes to members of the Universities Superannuation Scheme (USS) are being proposed to cut a £17bn fund deficit.
They include raising the pension age and increasing the amount members must contribute.
The USS is the latest occupational pension scheme to curb benefits.
Its plans follow those put by the BBC less than a week ago.
Both schemes are paid into by both employer and employees, and are final salary schemes - a system that gives a retiring worker a pension not only based on the number of years they have paid into the scheme, but on the amount they are earning when they retire.
The two have different ideas as to the best way to close the gap between the size of their funds and the amounts they will have to pay to their pensioners.
The BBC suggests imposing a cap on the amount pensionable salaries of existing members can grow by to 1% a year - something that could lead to a huge drop in any future pension.
New proposals by the USS include a link to annual inflation, but set a higher maximum of 2.5%.
Occupational pension schemes are under increasing scrutiny, although they are now rare in the private sector, they are still common in the public.
Public sector pension schemes in particular are in current focus.
A report on Tuesday said they cost twice as much as previously thought and required radical reform.
The USS pension changes will be considered for approval on 22 July, and would go to full consultation if given the go-ahead.
Related Internet Links
The BBC is not responsible for the content of external sites.