Friend denies aiding corrupt prosecution laywer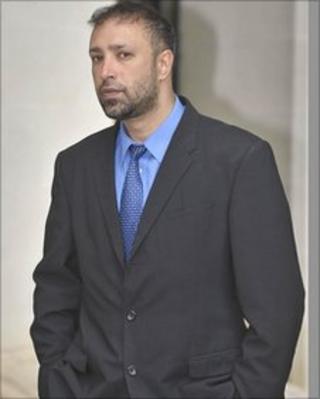 A man accused of being the accomplice to a corrupt lawyer said he knew his friend was "bending the rules" but did not believe he was acting illegally.
Saifur Khan, 37, of Penlan, Cardiff, denies aiding and abetting corruption, misconduct in public office and attempting to pervert justice.
Swansea Crown Court has heard co-accused Safraz Ibrahim was caught by an undercover police operation.
Ibrahim has admitted taking a share of a £20,000 bribe to drop a case.
The jury has heard Ibrahim, who was a senior lawyer for Gwent Crown Prosecution Service, told an undercover agent that he could "manoeuvre" an assault charge the man was facing.
Part of the operation involved an officer posing as a wealthy Arab businessman, who then approached Mr Khan, Ibrahim's friend and business partner.
Giving evidence on Wednesday, Mr Khan said he had taken the undercover officer for an "Arab prince" and put him in touch with Ibrahim to try and impress him.
Mr Khan admitted saying Ibrahim could provide help, but claimed he had only meant he could give legal advice.
He repeatedly claimed he believed his friend had not been acting illegally.
He went on to say: "I knew he was bending the rules but I did not think anything illegal, or criminal, was going on."
Detectives
The court has heard that Ibrahim was caught in an undercover operation mounted by specialist anti-corruption detectives in the Serious Organised Crime Agency (Soca).
The CPS is the public body which reviews the evidence gathered by the police and then decides whether cases should go to court or whether they should be dropped.
Mr Khan's trial continues.