Man arrested by terrorism police in Bristol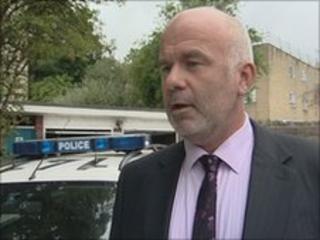 A man has been arrested at a flat in Bristol under the Prevention of Terrorism Act.
Armed officers raided the property in George's Square, near Bristol Bridge, just before 0700 BST and the premises are still being searched.
The man is being questioned by anti-terrorism officers at Paddington Green police station, London.
Police said the raid followed information received from outside of the area.
Det Supt Nigel Rock, of Avon and Somerset Police, said: "The search goes on. These searches can take many, many hours, many, many days on occasions.
"At this stage there is nothing at the flat that's causing us concern.
"I think it's important to stress that this individual is not from Bristol.
"Our inquiries lead us to believe he has only been in Bristol for a number of days and certainly not more than two or three weeks.
"The information originates from outside of Bristol so I think the people of Bristol should not worry about this incident in particular."