Laws on 'puppy farms' tightened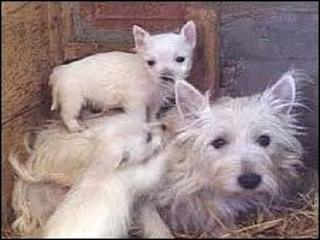 Animal welfare groups have welcomed assembly government plans to tighten the laws surrounding so-called "puppy farms".
New legislation to replace the Breeding of Dogs Act in Wales will introduce a minimum supervision requirement of one human supervisor to 20 dogs.
It will also demand that registered breeders microchip their dogs.
The RSPCA believes the measures will bring over 1,000 unlicensed breeders in Wales under statutory control.
The animal welfare organisation has been calling for an improvement on the current act after a series of high-profile cases where puppies were reared in over-crowded and unsanitary conditions.
The new act will also lower the threshold when breeders have to register for a licence from five breeding bitches to a maximum of three.
Rural Affairs Minister Elin Jones said: "What is unacceptable is large-scale breeding of puppies where welfare of both the parents and offspring may be compromised.
"It's about improving standards and preventing suffering - prevention is better than cure, which is a principle of our overarching animal health and welfare strategy."
One previous high-profile case in Wales was an RSPCA raid in 2007 where police and animal welfare officers found 64 malnourished and diseased dogs, including 48 puppies and 16 breeding bitches.
When discovered, they had insufficient water and had been forced to live among the rotting carcasses of rats, and even a sheep.
'Greater powers'
Virtually all the dogs confiscated were suffering from ulcerated skin and parasitic infections, and several later died from their illnesses.
Claire Lawson, RSPCA's external affairs manager for Wales, welcomed the announcement: "In recent years Wales has witnessed a growing problem in the commercial production of puppies.
"We hope that these new regulations will give greater powers to tackle bad practice in the dog breeding industry, especially the so-called 'puppy farms'.
"We are also very supportive of the measures to identify and trace commercially bred dogs and we believe that this is good practice for all dog owners."
It is hoped the legislation could be in place before the end of the year.
British Veterinary Association President Professor Bill Reilly said: "Here in Wales the task and finish group on dog breeding has already made enormous headway in tackling the problems associated with puppy farms.
"The significant health and welfare problems of bitches and puppies in puppy farms are shameful and I hope that the new measures will go a long way to tackling these rogue traders."