Thousands brave the rains at T in the Park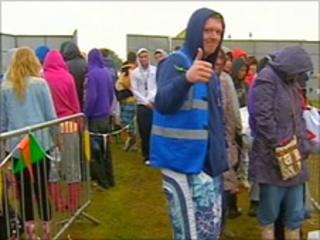 Tens of thousands of revellers are braving the bad weather at the T in the Park festival at Balado in Perth and Kinross.
Heavy rain is forecast for the three-day event, which is expected to attract up to 85,000 music fans a day.
More than 180 acts are appearing at the festival, which is being headlined by rockers Muse, US rap artist Eminem and Kasabian.
Tickets for the event, which is now in its 17th year, sold out in February.
Other acts appearing include Paisley's Paolo Nutini, US rapper Jay-Z and veteran ravers Prodigy.
Scottish favourites The Proclaimers, US group Black Eyed Peas and Madness are also on the bill over the weekend.
About 70,000 people are expected to set up camp on the site at Balado.
The Met Office has forecast rain for Friday which is due to become heavier on Saturday, with outbreaks also expected throughout Sunday.
Three years ago, organisers DF Concerts were forced to close car parks after heavy rain turned much of the site into a mudbath.
But chief executive Geoff Ellis said he was confident the impact of downpours would be minimised this year, as the local landowner had worked to improve drainage at the site.
Meanwhile, festival-goers have also been told not to bring vuvuzelas in case they upset the musicians.
'Good citizens'
Sales of the plastic horn, which has caused controversy during the World Cup in South Africa, have also been banned at the site.
DF Concerts said the decision was in line with their current ban on air horns.
In June planners also launched a manifesto to encourage responsible behaviour at the festival.
A new yellow hand logo will represent the five points in the Citizen T manifesto, which states: "We pledge allegiance to T in the Park and believe in being good citizens."
A total of 450 police officers have been drafted in to help out security staff and stewards.