Egypt police raid Gaza car smuggling tunnel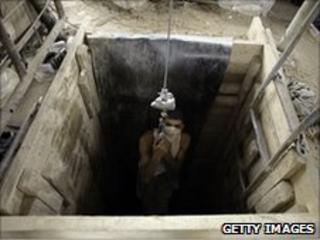 Egyptian police have broken up a ring smuggling cars through secret tunnels into Gaza, officials say.
Two cars were discovered in an underground tunnel and at least eight others were hidden in garages nearby.
Some of the cars had been stolen, while others were new. The smugglers escaped after a gunfight with Egyptian forces.
Egypt opened its Rafah crossing for travel and humanitarian aid last month after Israel's deadly attack on a Gaza-bound aid flotilla at the end of May.
Business down
According to the Egyptian authorities, they discovered a tunnel in the town of El Arish, on Egypt's north Sinai coast, while the smuggling operation was actually in progress, says the BBC's Jon Leyne in Cairo.
Two cars were found in the tunnel itself and at least another eight were waiting to be sent over.
The Egypt-Gaza border is riddled with tunnels, some big enough for cars simply to drive through.
According to sources in Egypt, smugglers can make nearly $8,000 (£5,270) on each car they send through the tunnel, and the Hamas authorities then add their own unofficial tax of up to $1,500 the other side, our correspondent says.
Business for the tunnel operators has dropped off recently, after Israel eased its blockade to allow most civilian goods into Gaza, and Egypt opened its crossing point.
Israel came under international pressure to ease its four-year blockade of Gaza after nine Turkish activists were killed in a 31 May Israeli raid on a flotilla that was trying to carry aid to the Palestinian territory.
Under the new rules, Israel allows almost all consumer goods into Gaza, but maintains a "blacklist" of items including weapons and materials that could have a military use.
Israel says its blockade of the Palestinian territory is needed to prevent the supply of weapons to the Hamas militant group which controls Gaza.