Rhodri Morgan opposes tax-varying powers for assembly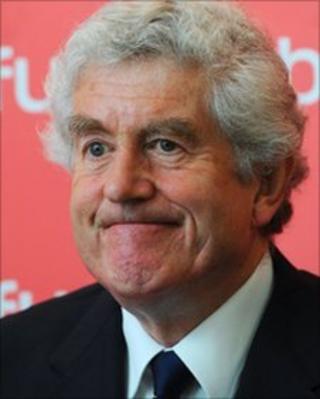 Former first minister Rhodri Morgan has strongly opposed proposals to give the assembly government tax-varying powers.
The Cardiff West AM said the public would not have voted for devolution in 1997 if ministers had tax powers and there was "no mandate" for it now.
An independent review has found Wales should have some tax powers to become more accountable for its spending.
The Welsh Assembly Government and political parties have welcomed the Holtham Commission review.
The Holtham Commission said part of the Treasury funding for Wales should be replaced with revenue raised from Welsh taxpayers.
The commission wants ministers to be able to vary the basic and higher rates of income tax by up to 3p in the pound.
Currently, the assembly government's annual budget of nearly £16bn is calculated via the Barnett formula, which is based on spending in England on areas including health and education.
But Mr Morgan told the BBC programme am.pm that he was against the idea of tax-varying powers for ministers in the assembly government.
He said: "I've always believed that we've had no sanction or mandate from the original September 1997 referendum to have tax-varying powers.
"If we had had a tax-varying power on offer there is no question that we would have had "no" instead of a "yes". As a result there is no mandate for that."
Mr Morgan, who stood down as first minister in October last year, added: "I understand all the principles for accountability but there is no mandate for a tax-varying power for the Welsh [Assembly Government]".
On Tuesday, the Holtham Commission, which was established as part of the coalition agreement between Labour and Plaid Cymru, said the powers would make ministers in Wales more accountable for the money they spent.
'Very dangerous'
Also speaking on am.pm, the Conservative MP Glyn Davies said the Holtham Commission's call for the assembly government to gain the power to vary income tax could prove "very dangerous" for the "yes" campaign on the referendum on the assembly's powers.
The Montgomeryshire MP said that referendums were rarely fought on the exact issues under question.
He said he feared that the "no" campaign could very easily portray a vote for greater powers for the assembly government as a "vote for higher taxes".
Mr Davies said: "There is a real danger of the campaign, which is about more powers for the assembly [government], actually being about higher taxes being paid in Wales... and I think that's a very dangerous change."