Halt stoning of Iran 'adulterer' - Human Rights Watch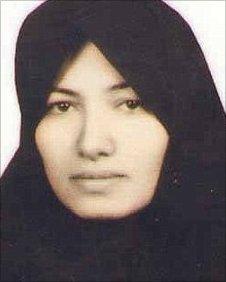 Campaign group Human Rights Watch has called on Iran to stop the execution of a woman convicted of adultery.
The group says Sakineh Mohammadi Ashtiani, a mother of two, faces imminent death by stoning after her appeals for clemency were denied.
Ms Ashtiani had already been punished with flogging for what a court called an "illicit relationship", when she was then charged with committing adultery.
The 43-year-old, who denies the charges, has been in prison since 2006.
Under Iran's strict interpretation of Islamic law, sex before marriage is punishable by hundred lashes, but married offenders are sentenced to death by stoning.
In May 2006, a criminal court in East Azerbaijan province found Ms Ashtiani guilty of having had an "illicit relationship" with two men following the death of her husband. She was given 99 lashes.
But that September, during the trial of a man accused of murdering her husband, another court reopened an adultery case based on events that allegedly took place before her husband died.
Despite retracting a confession she said she had been forced to make under duress, Ms Ashtiani was convicted of "adultery while being married" and sentenced to death by stoning.
Related Internet Links
The BBC is not responsible for the content of external sites.