Push for wine and beer industries in Wales, say AMs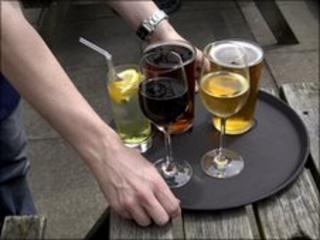 Wales should promote its wine, cider and beer industries to mirror the success of countries like New Zealand, according to a committee of AMs.
A plan was needed to realise the economic potential of the homegrown drinks industry, said the AMs.
The report says industry newcomers should have government guidance.
It wants support for research into barley and hop cultivation and reform of "beer ties", which force landlords to buy from pub owners.
The report, by the cross party Rural Development Sub-Committee, has been welcomed by brewers and consumers' groups.
It cites New Zealand's wine industry as an example Wales should learn from.
It says the Welsh Assembly Government should work with Welsh brewers to design a marketing campaign to promote Wales as a country of small breweries producing quality beer
It calls for government guidance for those farmers wishing to diversify into growing crops for brewing or apples for cider making.
'Hugely under-developed'
Committee Chair Rhodri Glyn Thomas said: "The key message that this inquiry has highlighted is that what is potentially an extremely lucrative industry for Wales is hugely under-developed and in need of direction."
Mr Glyn Thomas said people only needed to look at the examples of whisky in Scotland and Guinness and Baileys in Ireland to see the economic impact a well-marketed drinks industry with a strong national identity could have.
"The committee felt that the development of a dedicated strategy for the industry by the Welsh Government's Food and Market Development Division would go a long way towards achieving this," he said.
The report recommends that government encourage maximum uptake by farmers through the Glastir scheme of funding to support the planting of orchards so Welsh cider makers can source apples from Wales.
It also calls on the Welsh Assembly Government to ensure it is "fully involved" in any discussions at UK level regarding minimum pricing for alcohol.
'Extremely grateful'
Buster Grant, chair of the Association of Welsh Independent Brewers, said he was "extremely grateful" for the opportunity presented by the report.
Mr Grant said one of the reasons for starting up the association was that so few people knew of the quality and range of Welsh beers.
He said: "We're small producers so we don't necessarily have the knowledge, the skill set and the expertise to put together a quality marketing programme and we won't actually also have the resources and the funding necessary to do it.
"However, if we all work together there's a whole host of things we can get together to get the word out there that Welsh beer is genuinely some of the best in the world."
Ian Hill of the consumer group the Campaign for Real Ale (Camera) said he was "delighted" with the report.
Mr Hill said: "There are a lot of very very good recommendations in the report.
"One thing we've been pushing for is we'd like to see better protection for pubs within the planning recommendations."
He added that this point had been addressed in a recommendation that the Welsh Assembly Government give local authorities new powers to protect pubs from demolition.
He also applauded the recommendation that government draw up a strategy to promote and market Welsh wine, beer, cider and spirits.
Mr Hill said: "The Welsh brand in beer, in cider and so on is getting stronger and stronger.
"Consumers and the breweries are getting more aware of it and there's plenty that the Welsh Assembly Government can do to support that."