DNA bank hits goal of enrolling half a million adults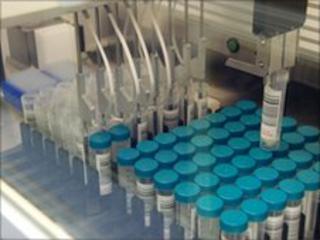 The most comprehensive health study in the UK has reached its goal of enrolling 500,000 adults.
UK Biobank volunteers have undergone medical checks, answered health and lifestyle questions and given genetic samples, to be stored for decades.
The aim of the gene bank is to improve the prevention, diagnosis and treatment of a wide range of conditions, such as cancer, heart disease, and dementia.
Scientists hope to work out why some develop diseases while others do not.
Recruitment to the project began three years ago and was open to adults aged 40-69. Around one in 50 Britons in that age range took part.
Each of them attended an assessment centre where they answered questions on their health, lifestyle, diet, memory, work and family history.
They also had measurements of their blood pressure, pulse rate, height, weight, body fat, vision, fitness grip strength, bone density and lung function. Samples of blood, saliva and urine were given for long-term storage and analysis.
Volunteers to the project were told that it was not intended to help improve their health, but that of future generations.
Dr Tim Sprosen, chief scientist at UK Biobank, applauded the generosity of volunteers.
"By putting together a vast amount of data together now on people's health, with the samples, we will get reliable answers to the kind of questions they want to know.
"How can I, as I get older, avoid diseases like dementia or cancer and how can I improve the life of future generations - my children and my children's children?"
Dr Sprosen said much of the interesting research would not be done for at least another decade.
"In 10 or 20 years time, we will be able to analyse things in the samples that researchers haven't even thought about yet.
"We are custodians of this resource. The next generation of scientists, who might still be in primary school today, will use new tests and be able to unlock new secrets as to how we prevent disease."
'Confidentiality protected'
The genetic samples will be stored in a huge freezer in Stockport. They will be analysed over the next three decades for a range of health studies.
The health of everyone who has taken part will be tracked through the coming decades via their medical records.
Scientists at UK Biobank say the confidentiality of participants would be rigorously protected. Data used by researchers will not include personal identifying details.
UK Biobank, which has so far cost about £65m, was set up by the Department of Health, Medical Research Council, Scottish Government and the Wellcome Trust charity.
It is also supported by the Welsh Assembly, and health research charities such as the British Heart Foundation and Cancer Research UK. Volunteers were recruited from across England, Scotland and Wales.
A spokesman for Biobank said they would have liked to have recruited volunteers from Northern Ireland, but it would not have been possible to transport the genetic samples intact.