Appeal for return of pump that stops arsenic and lead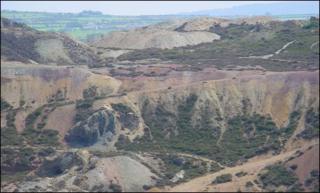 Environmental health officers are appealing for the return of 'vital' equipment which stops harmful chemicals from entering the air at Penysarn near Amlwch, Anglesey.
The pump is used to keep settlement ponds, at the former copper mines of Parys Mountain, from drying up.
The water in the ponds help to keep arsenic and lead dust from entering the atmosphere.
Council officers said there is no immediate risk to health.
"There are no immediate risks to health to those living near the Henwaith Ponds," said principal environmental health officer with Anglesey council Huw Thomas.
Exposure
"However, our studies have indicated that there may be some risk from breathing in dust from the ponds over a long period of time," he added.
Mr Thomas said that exposure to the chemicals is most likely to occur through direct contact with the ochre settlement ponds.
"But when the water dries up, the ochre dust that's left can get whipped up by the wind," he added.
The Parys copper mine on Anglesey was once the centre of industrial activity in Wales, employing more than 1,000 men, women and children at its height in the late 18th century.
The former works left a moon-scape landscape, with arsenic and lead found in the ochre near Penysarn.
A team from the council, Environmental Agency, Countryside Council for Wales, Gwynedd Archaeological Trust, Amlwch Industrial Heritage Trust, Anglesey Mining and local residents had decided on the pump as a way to manage the problem.
"This pump is such a specialised piece of equipment that it really isn't much use to anyone else, as it will not run off normal mains electricity," said Mr Thomas.
He said that before the theft the pump was working well and keeping water circulating in the settlement ponds so that they could not dry up.
"I would urge those who took the pump to return it as soon as possible," he said.
"The theft leaves the project in jeopardy and increases the potential for people to come into contact with contaminants in the affected ponds."
He added that limited financial resources were available to the project and the theft places an "additional unnecessary burden" on the local authority.
Anyone with information about the whereabouts of the pump is asked to contact Huw Thomas at 01248 752823.