Why does the BBC keep losing talent?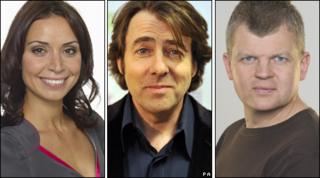 In the last few weeks it has been announced that ITV has signed three of the BBC's most high profile presenters.
The One Show host Adrian Chiles announced his departure in April, closely followed by his co-host Christine Bleakley.
Jonathan Ross announced in January that he was leaving the corporation and is now set to present a talk show on ITV next year.
Media commentator and presenter of BBC Radio 4's The Media Show Steve Hewlett explains what this could mean for the public broadcaster in the future.
Is the announcement that Jonathan Ross is going to ITV a shock?
No, not at all. I'm profoundly un-surprised. A deal was hammered out with Channel 4 initially, Kevin Lygo (managing director of ITV Studios and former director of television and content at Channel 4) has always been a big fan of Jonathan Ross. He tried to get him to Channel 4, that didn't happen. When he left Channel 4 and went to ITV, it was odds-on that's where Jonathan would end up.
Is it likely that he will be on more money at ITV than he was at the BBC?
I would be very surprised if it is anything like what he was on on at the BBC. I don't know, but I would be very, very surprised.
In the last few weeks the BBC have lost Christine Bleakley, Adrian Chiles and now Ross, why is this happening?
There are different things at play here. Jonathan Ross came to symbolise the BBC largesse, which the corporation has found very difficult to live with.
I don't blame him for this, but the BBC must take the blame for Jonathan Ross becoming a liability, rather than an asset.
Creatively he's great, lots of people like him and by going along with the paid amounts, such as they did, they made him into a liability. So, sooner or later, he had to leave the BBC.
Christine and Adrian is a rather complicated story. My view is that Christine and Adrian represents a failure of talent management by the BBC.
In what way?
The BBC has sought to spin [their departure] - particularly in the case of Christine - as an example of how they're not prepared to be pushed around by excessive demands made by talent.
That's very much in vogue at the moment. They're under pressure over executive pay, they're under pressure over talent pay, so - for the BBC - talent and executive pay are very touchy subjects.
It suits the BBC to portray it in this way. I don't think it's correct, however. The reason they've lost Adrian and Christine is because somebody decided to insert Chris Evans into Friday night on The One Show.
I don't say that's the wrong thing to do, but it's that and the way it was handled is what cost the BBC Adrian. Having lost Adrian, they lost Christine - nothing to do with excessive demands from talent.
What does losing these names mean for the future of the BBC?
Talented people are rare and that's why they are able to command big money. Successful programmes are relatively rare, but it's a combination of the programme, the people behind them and the presenters that make them into successes.
So there's no guarantee that people who worked together successfully at the BBC can simply translate to ITV, or vice-versa. If and when they emerge on the front of programmes, which on the whole are successful, then viewers will of course drift towards them.
But the BBC is not going to sit back and let that happen. The game is far from over for the BBC, but I don't think ITV, at the moment, is intrinsically more attractive for talent.
I don't think think this is yet an example of ITV having the money or being prepared to spend the money and the BBC not. That's not why these three have gone.
Eventually, if the BBC mishandles the question of pay in the longer term, then it is perfectly plausible that there will be an exodus of talent from the BBC.
Do you think ITV will ask Jonathan Ross to be careful not to offend audiences?
ITV is a channel with a large and loyal audience. It's an audience which is slightly older than BBC One, so ITV will want Jonathan Ross to bring in younger viewers but they will have to take care that what he does doesn't drive out their existing heartland.
In one sense, ITV is much freer to do what it wants, because it's not the BBC, certainly in terms of taste and decency. It won't generate the complaints and reaction that you get with the sort of stuff Jonathan Ross did on the BBC, because it's not the BBC.
Is this a shrewd move by ITV, picking up the BBC's talent?
It's opportunistic. Why not? One would feel more certain about Jonathan Ross doing his own show, because we kind of know the sort of things he does. You can imagine his show on ITV working pretty well. Christine and Adrian, whether they are able to make GMTV into something that it's never been, well the jury is out on that.
I would put money on Jonathan Ross being a success, and this is not a comment on Christine and Adrian's talent as they are both very talented people, but who knows about GMTV?