Veteran Ghana footballers remember the high life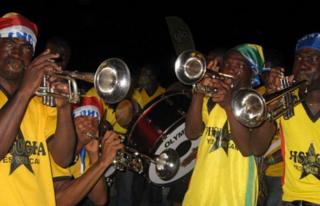 Ghana's Black Stars have been receiving the red carpet treatment after returning from the World Cup in South Africa.
But these players are by no means the only Black Stars to have achieved hero status at home and abroad - Ghana has football history.
James Adjei is 81, though he looks about 20 years younger. Osei Kofi is 70 and could pass for 50.
I met the two veteran footballers flicking through some black and white photos in Mr Adjei's modest home outside Accra.
"We played with all our hearts for the love of the game and we were not paid anything. Nobody gave us anything except for food," he says as he recalls a tricky national team tour to Ireland and England in 1951 - six years before independence, when Ghana was called Gold Coast.
"We played barefoot," he recalls.
"We had no knowledge of playing in boots. But we played good football against those teams in boots."
Staying on their feet in the cold and rain was a challenge.
The goalkeeper broke his leg in the first game and the team lost most games but when the players returned to Takoradi port after two weeks at sea they each had extra luggage - a pair of football boots.
Fainting after header
"This man sitting down here next to me was one of the greatest footballers," Mr Kofi says of his senior colleague, whose talent was spotted by the legendary English footballer Sir Stanley Matthews during a visit to Ghana in 1957.
"After the match at Kumasi's Jackson Park, Stanley Matthews was interviewed and he said James Adjei could be compared to any midfielder in the United Kingdom," he recalls.
But Mr Kofi was not a bad player himself.
Known as "The Wizard Dribbler" he was also given the nickname "One Man Symphony Orchestra" as he could carry the side during his hey-day in the 1960s.
While there has been much talk at the World Cup in South Africa of the Jabulani ball causing players problems, they can all count themselves lucky that the ball has evolved over the years.
"When we played it was a pure leather ball which became extremely heavy after it rained.
"I can remember a few players heading the ball to stop a powerful shot and fainting," Mr Kofi recalls with a smile.
He also has a theory as to why Ghanaians make good footballers.
"It is all about rhythm.
"Most tribes in Ghana dance with their feet - there is only one that dances with its arms. And while Brazilians have the Samba, we have High Life music."
Ghana's Black Stars may have been knocked out of this World Cup because of some Uruguayan cheating - arms instead of feet again - but Mr Kofi admits he learnt a bit of trickery from Mr Adjei who was known as "His Majesty".
"I might be given a through pass and I would just drop a white handkerchief while the two of us were running," he says.
"Your attention would by all means go on the white handkerchief and by the time you realised, I was bound to score."
Pan-Africanist vision
While Ghana carried the flag for the continent during the knock-out stages of the World Cup, some Ghanaians are keen to point out that this was not the first time that the country has led the rest of the continent.
After Ghana gained its independence, the country's first leader, Kwame Nkrumah, renamed the Gold Coast X1, the Black Stars.
As other countries followed by cutting their colonial ties, the team was often invited to play exhibition games around Africa.
"Every blessed month there was a Russian aircraft waiting and as each country gained its independence, the Black Stars were invited to go and demonstrate the Ghana brand of football," says Mr Kofi.
"We were invited by Jomo Kenyatta in the 1960s. When we met them, we beat Kenya 13-2. We destroyed their independence celebrations," he says, in fits of laughter.
When it comes to coaching the national team, both veterans believe there is much to be learnt from the late Mr Nkrumah.
"Nkrumah said the black man was capable of managing his own affairs," says Mr Kofi, questioning why of six African teams at the World Cup, only one had a local coach.
"We have won the Africa Cup of Nations four times - each time with a black coach."
After continent-wide appreciation for the Ghana team's performance at the World Cup some pundits have renamed the Black Stars, "African Stars."
For some, this brings back memories of Nkrumah's pan-Africanist vision.
"If Kwame Nkrumah were alive today he would be the happiest man," said Mr Adjei with a smile.